Product Description
KZYEE KM20 The ignition analyzer can be used to measure each cylinder speed of the car engine, high voltage ignition coil
KZYEE KM20 Multisystem Ignition Analyzer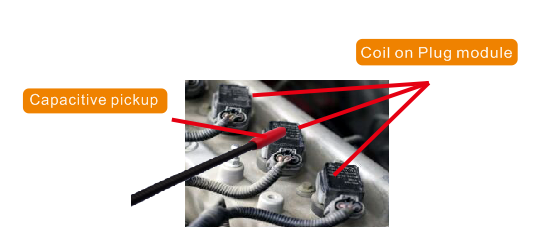 The ignition analyzer can be used to measure each cylinder speed of the car engine, high voltage ignition coil ignition voltage and the injection time of each cylinder. It is induction type, without dismantling any pats,you can test the general distributor type SPW and ignition coil type COP. It can dynamically display the parameters and display the maximum and minimum range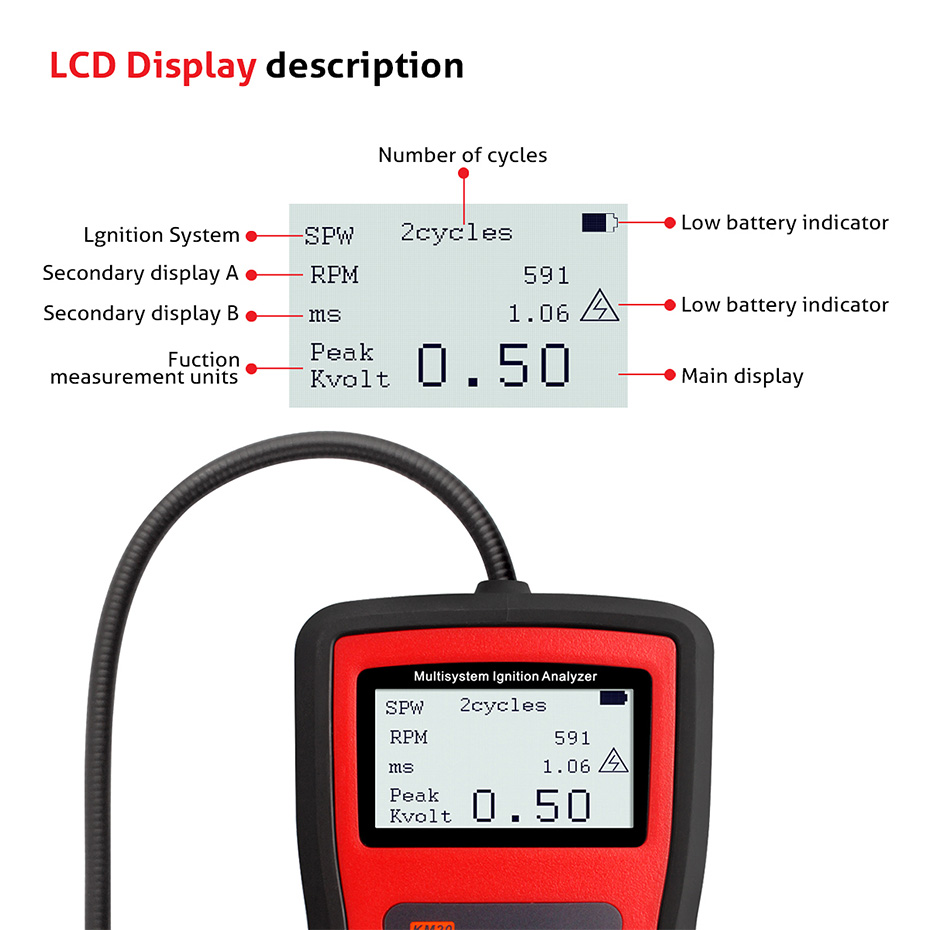 1.Measures RPM
2.Measures spark volt
3.Measures spark burn time
4.Advanced microcontroller technology
5.No ground wire connections required

KZYEE KM20 Special Features:
1. Capacitive pick-up
2. Flexible probe
3. Protective rubber holster
4. LCD display
5. Power ON/OFF/RESET button
6. Secondary Function/Capture button
7. Ignition system button
8. Main Function/Calibrate button
9. Engine Cycles button

KZYEE KM20 Functions:

1. Minimum and Maximum functions (For COP and SPW modes)
The MST1000 maintains a continuous record of the minimum and maximum readings of the function currently selected.To display the Minimum and Maximum readings of the main display, if not already selected press' Secondary Function/Capture' Button momentarily. To reset the Minimum and Maximum readings, press the 'Power ON/OFF/Reset' button momentarily. These values are also rest when turning to "0"
2. Spark KVOLT Calibration function (For Cop mode only)
The KM-2 0 requires the user to calibrate the instruments in order to measure spark KVOLT in coil on plug and coil near plug ignition systems.
This calibration uses the measurement values obtained during the procedure to find the optimal measuring parameters or a particular type of ignition module, and compensates for differences in waveform and signal strength.
Once the KM-20 has been calibrated on one of the ignition modules of the engine being diagnosed, all the subsequent measurement of spark KVOLT will be relative to the calibration value.
3.KM-20 Test Result Display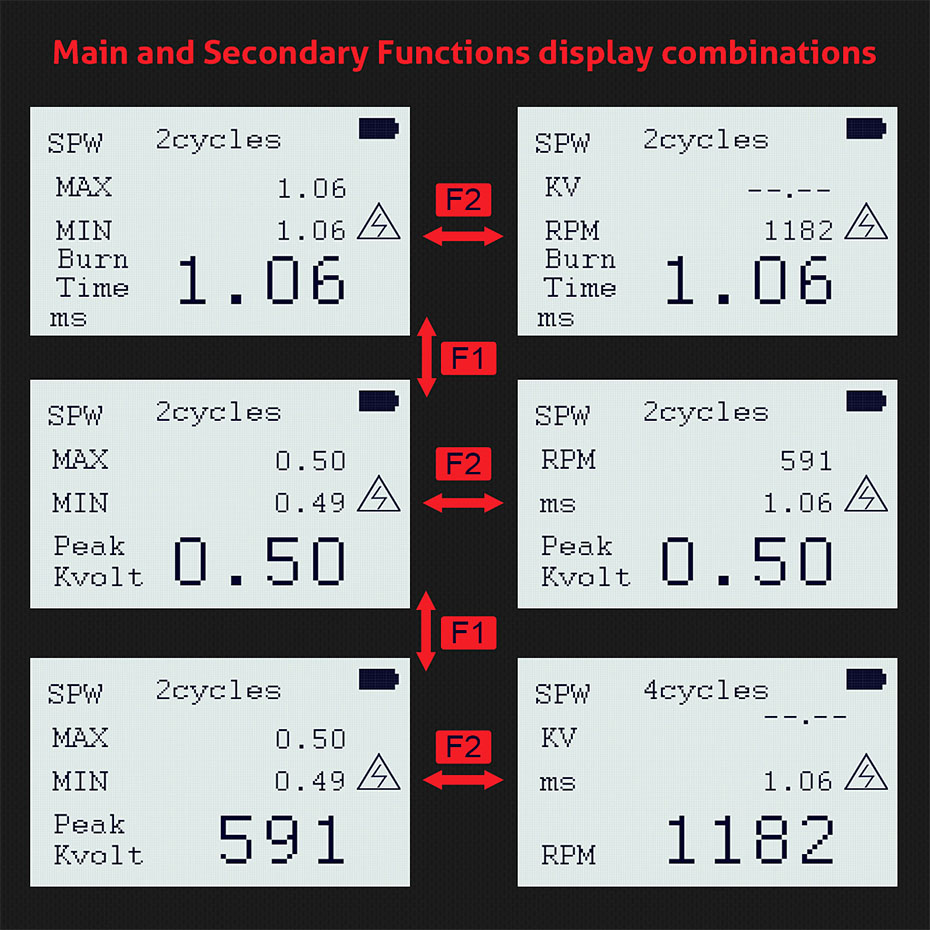 Specifications:
Function
Measurement
Range
Accuracy/ Repetitivity
Input Characteristics
RPM
200 to 19999 RPM 2 and 4 cycles and DIS
Accuracy:
0.5%±1 LSD
Input Impedance:
100KΩ+ 1.5 nF
(Minimum).

Input Protection:
±42 VDC Max.
Spark KV
0 to 50 Kv
Repeatability:
3%±1 LSD
Spark burn time
0 to 10 ms
Accuracy:
±0.1ms

Package includes:
1pc x KZYEE KM-20 Main machine
1pc x User Manual
DHL:
For MOST non-free shipping goods, default shipping method is DHL. Need 3-7 working days on the way after dispatch the goods.
YANWEN Express:
7-14 working days on the way, no need to pay tax for most european counties.
EMS:
6-10 working days on the way. To Russian only send by EMS. For some remote area, if you do not want to pay remote fee, we can send it to you by EMS too.
Aramex:
5-10 working day. To most middle east counries. If you do not like this shipping method, please leave message on your order.
Flat airmail:
7-18 working days on the way. For remote area or holiday, need more time.
Attention:
If you needs YANWEN express shipping or other shipping method like UPS, TNT, FedEx and so on, or you have special needs for your order, such as declared name and so on,
please leave message on the order to notify us
. Otherwise we will send the order as our usual practice.
As different country has different import policy, sometimes we will change the shipping method based on the counties and goods.
When you get the parcel, before sign for acceptance, please check the package to make sure the product is correct and no damage.
For any question, please contact us at:
Online Customer Service
E-mail:
sales@obdexpress.co.uk
Skype:
obd2express.co.uk
Whatsapp:
0086-18750906257
Facebook:
https://www.facebook.com/OBDexpress.co.uk/
Youtube:
Youtube OBD2expresscouk
Scan Our QR code by your mobile phone
Website
Blog
Facebook
Youtube