1. Autel Maxisys Elite II is a latest version of the Maxisys Elite series, that upgraded from Autel Maxisys Elite.
2. It improves hardware and software, same hardware as MS909, Adds more expansion functions, replacing the exsiting software/ firmware in the ECUs, programming new ECUs for BMW and Benz, ADAS, oscilloscope, GPS, Support MaxiFix cloud service, etc..
3. Supports multiple languages.
Autel MaxiSYS Elite II, As newest emerged model, is upgraded from the Elite/ MS908S Pro/ MK908P and offers a major breakthrough in both hardware and software. As a latest Maxisys Series Latest flagship version scanner, the Autel MaxiSys Elite II is based on the fast and intuitive Android 7.0 OS powered by an Octa-core processor, features a 9.7-inch ultra-high resolutions touchscreen, 4GB RAM & 128GB on-board memory, long-distance wireless communication, and 8 hours of continuous battery life.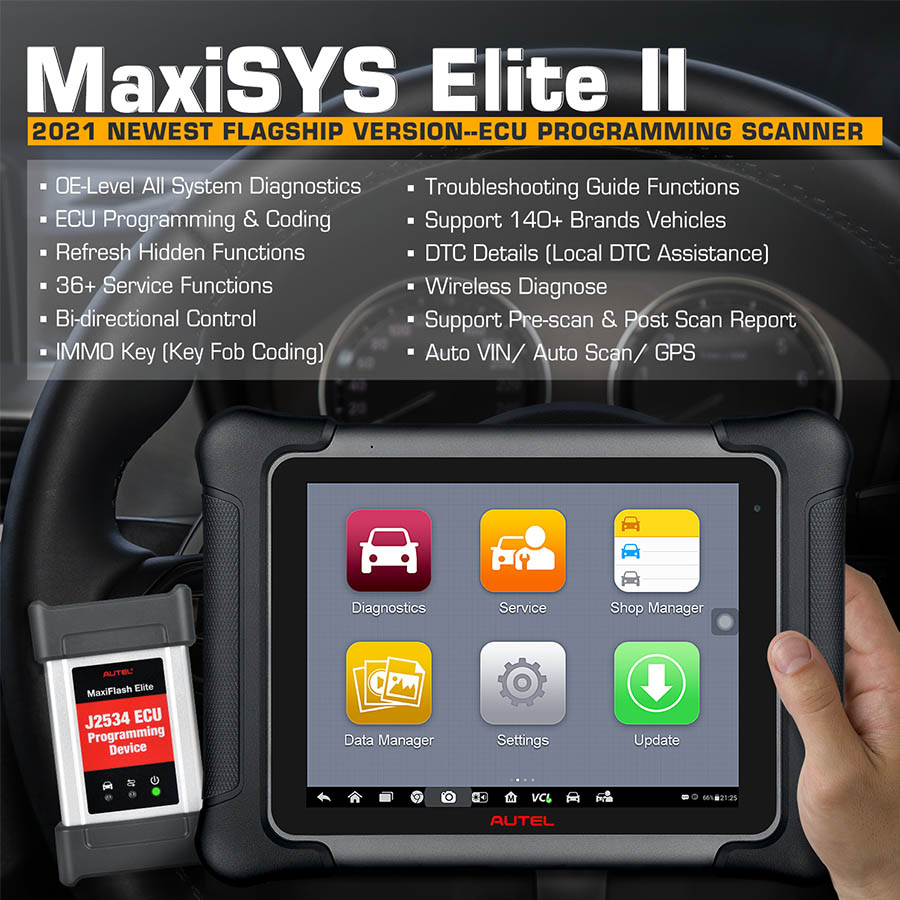 Autel MaxiSys Elite II Highlights:
1. Global Version, No IP Blocking Problem.
2. Supports multiple languages:
German, Spanish, French, Traditional Chinese, Japanese, Polish, Portuguese, Russian, Italian, Korean, Dutch, Swedish, Turkish, Thai, Vietnamese.
3. Two Years Free Update.
After 2 years,
can buy
Autel Elite II Subscription
4. The most extensive complete system coverage
for more than 80 US domestic, Asian and European vehicle makers and models.
5. Exceptional OE-level functionality from comprehensive OBDII diagnoses & services to advanced ECU coding and programming.
6. Uniquely integrate vehicle programming capabilities with a SAE J2534-1 & SAE J2534-1-2 vehicle pass-thru programming interface.
7. Automatic system and software updates
with real-time push message notifications via internet.
8. Instant remote control tech support anytime, anywhere.
9. Interactive data logging sessions
enable
direct contact with Autel Support for the troubleshooting of the diagnosed bugs and errors.
10. One-stop multitasking designed
for ideal management of workshop operations to keep all data files, customer info and vehicle records well organized.
11. Unique ergonomic design with rubberized outer protection and a rugged internal housing.
12.
Upgrade Premium Hardware:
Android 7.0, Octa-core Processor (2.3GHz Quad-core + 1.7GHz Quad-core), 4GB 128GB, 9.7inch BOE)
13.
Comes with SAME Hardware as MaxiSys MS909
, But save more than 1000 euros in budget.
14.
Support Pre-Scan and Post Scan Report:
Printer report for customers who needs
15. Support Guided Functions & Refresh Hidden Functions:
Guide mechanics to repair vehicles one by one
16. Extended Function:
* Work with
Autel BT506
, enables technicians to view the health status of vehicle's battery and electrical system.
* Work with
Autel MV108
/ MV105 allowing you to examine difficult-to-reach areas normally hidden from sight. It is capable of recording digital still images and videos, which offers you an economical solution to inspect machinery, facilities, and infrastructure safely and quickly.
What's New in Elite II?
1. Hardware and Software Platform Upgrade, a New Operating Experience
1) Samsung Exynos8895 8 core hardware platform.
2) Equipped 5M/ 16M camera.
3) Equipped 4G/ 128G super memory.
4) Equipped 15400mAh battery
2. Support More Expansion Functions, Easy to Manage Various Repair Scenarios
1) Battery detection (works with
MaxiBas BT506
)
2) Support oscilloscope, GPS
3. Support MaxiFix Cloud Service, Efficiency Enhancement at Your Fingertips
1) Support Remote expert service, RealFix, SMS.
2) Device management/ report management, data on the cloud without fear of loss
Vehicle Coverage:
The Latest Maxisys Elite II support almost 90% vehicles all around the world. These multi-functions perform various componet adaptions allowing you to recalibrate or configure certain componet after making repaires or replacement.
1) Supported Vehicle List:
AUDI, BENZ, BMW, DACIA, EU FORD, AU Ford, Ford, Holden, LANDROVER, MINI, OPEL, PEUGEOT, RENAULT, SEAT, SKODA, VW, VOLVO, SMART,?JAGUAR, BENZ SPRINTER, SAAB, FIAT, ABARTH, LACIA, ALFA ROMEO, VAUXHALL, MAYBACH, BENTLEY, BUGATTI, PORSCHE,GM, CHRYSLER, FORD,SUZUKI,?KIA, DAWEOO, ISUZU, TOYOTA, SUBARU, SCION, NISSAN, MITSUBISHI, LEXUS, INFINITI, HYUNDAI, HONDA, ACCURA, MAZDA.
2) Supported Protocols
: ISO 9142-2, ISO 14230-2, ISO 15765-4, K/L lins, Flashing Code, SAE-J1850 VPW, SAE-J1850 PWM, CAN ISO 11898, Highspeed, Middlespeed, Lowspeed and Singlewire CAN, GM UART, UART Echo Byte Protocol, Honda Diag-H Protocol, TP 2.0, TP 1.6, SAE J1939, SAE J1708V
Functions:
1. Full System Diagnosis & Full OBDII functions
Using the additional OEM software, the Maxisys Elite II can be used as a Pass-Thru diagnostics tool as well, which allows users to read and clear Diagnostic Trouble Codes (DTCs) and data log PIDS, collect sensor data and log generic OBDII data, etc.
Similar to many Autel scan tools, the Autel Maxisys Elite II can perform all the OBD II test modes. These include the latest powertrain diagnostic data, freeze frame data, emission diagnostic trouble codes, emissions diagnostic data, oxygen sensor monitoring test results, onboard monitoring tests, VIN, and many more
2. Advanced Oneline ECU Programming & ECU Coding
1) Major Breakthrough:
Autel Elite II supports Volkswagen Audi guide function, BMW F and E chassis hiding function reveal, Code for BMW F chassis, Ford, Mercedes Benz, Chrysler, Toyota, Hyundai, Land Rover, PSA, Renault, Porsche Ford offline programming, online anti-theft for VW, Audi, etc.
2) ECU Programming:
* Replace the existing software/firmware and program the new ECU.
* Load control functions instructions into a specific control module.
* Updating data and operating instructions previously installed in a control module.
* Allow you to perform J2534 programming for Benz / BMW.
* J2534 ECU Programming
J2534 ECU programming of car scanner is designed for BMW and Benz to handle software-controlled drivability issues and emission issues such as fuel efficiency, power loss, fault codes, and durability of mechanical parts, etc..
3) ECU Coding:
ECU coding implies software modifications to a vehicle to allow the use of functions not available in the car. Coding does not imply changing the software but changes preprogrammed options already existent in the software. ECU coding can help you match vehicle parts and on-board systems to strengthen the vehicle performance. MaxiSys Elite II equips with more high-end ECU functions than other types of diagnostic tools.
ECU Coding: Compatible with Mercedes-Benz, BMW, Volkswagen, Audi, China General Motors, Nissan, Land Rover/Jaguar, Haval, etc.
1. Refresh the hidden features (auto start-stop, reverse tilt mirrors, foldable mirrors, and customizing interior lights, etc).
2. Customize the OE settings (setting alarms, door locking, signal, etc).
3. Enhance the vehicle performance (offering the solutions for fuel efficiency, and reduce power loss).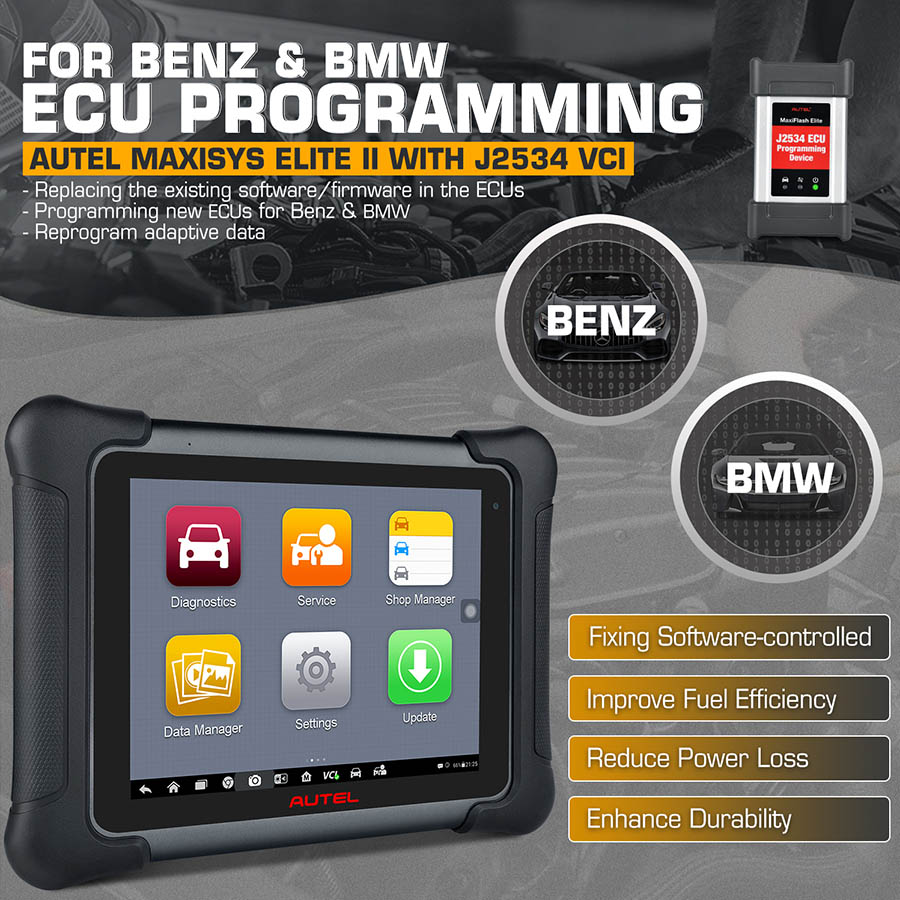 3. 36+ Advanced Servcie Functions
Service section is specially designed to provide you quick access to the vehicle systems for various scheduled service and maintenance
performances.
* Oil Reset: Turn off the oil light, reset mileage & service intervals after engine oil is changed
* EPB: Maintain the electronic braking system safely and effectively, deactivating and activating the brake control system, assisting with brake fluid control, opening and closing brake pads, and setting brakes after disc or pad replacement, etc.
* ABS: Bleed the air of a brake system to restore ABS brake sensitivity.
* SAS Calibration: Calibrating steering angle resetting the position of the steering after replacing the steering angle position sensor and the mechanical parts of the steering system
* DPF Regeneration:Through continuous burning of the particulate matter captured in the DPF filter to stabilize the filter performance, turn off DPF light.
* BMS Service: Re-match the control module with the motor sensor to detect the battery more accurately
* Injector Coding: Code the replacement or adjusted injector to more accurately correct the amount of fuel injection of each cylinder.
* Throttle Matching: Relearn their positions through different states (idle, partial throttle, WOT).
More......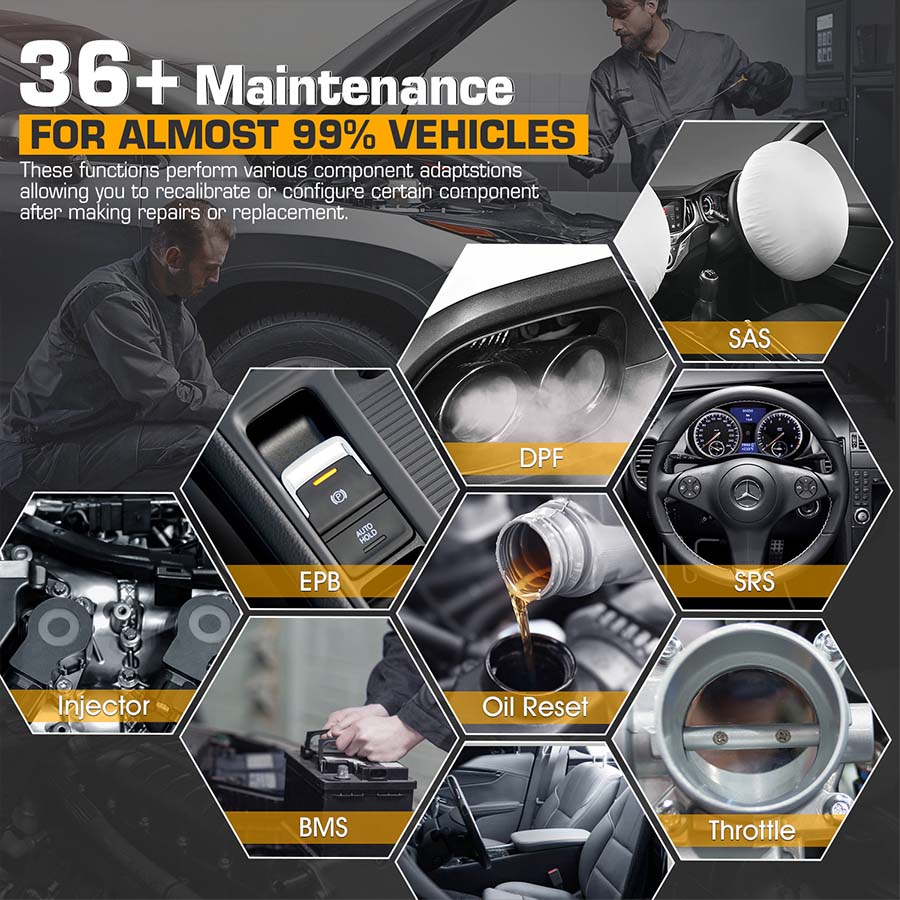 4. Autel Cloud Technology
Autel Cloud Technology (MaxiFix Platform, Data Management, Data Feedback) gives you support anytime, anywhere.
1) MaxiFix
Application launches the on-line troubleshooter database, which not only provides you virtually all common diagnostic trouble code (DTC) database for most vehicles, but also serves as a forum allowing you to network with other MaxiSys users, and gives you access to a vast database of repair and diagnostic tips along with proven filed fixes.
2). Data Manager
application is used to store, print, and review the saved files.
3). Shop Manager
application helps you to manage the workshop information,customer information records, and keep test vehicle history records, which can be a great assist in dealing with daily workshop business and improves customer service
Autel Elite II Automakers' Service Web
​
​​​​​​
BMW
Mini
Porsche
Chrysler, Jeep, Dodge
Ford, Lincoln, Mercury
Land Rover
Volvo
Cadillac, Chevrolet, Daewoo, GM, GEO, Pontiac, Buick, Saturn, SAAB
Acura, Honda
Isuzu
Mazda
Mercedes
Mitsubishi
Nissan
Toyota, Lexus, Scion
Volkswagen
Audi
Note: When reprogramming on-board, always make sure the vehicle battery is fully charged and in good working condition. During reprogramming there is a risk of having the operation failure if voltage falls below the proper operating voltage. Sometimes a failed operation can be recovered, but there is a chance that failed reprogramming could ruin the control module. We recommend connecting an external battery charger to the vehicle to ensure a successful operation.
Comparison Chart