Product Description
KZYEE KS20 is the testing tool for 12V and 24V vehicle, the testing voltage range is DC 9V to 30V
KZYEE KS20 Battery Analyzer
This instrument can be used to test the vehicle battery, using the conductivity method to measure, it can test the conductivity value, CCA value and remaining useful life of the vehicle battery, it's convenient for users to determine whether the battery should be replaced. 320*240 color display, the display is intuitive, it supports both Chinese and English display. This instrument can be used for 12V and 24V battery.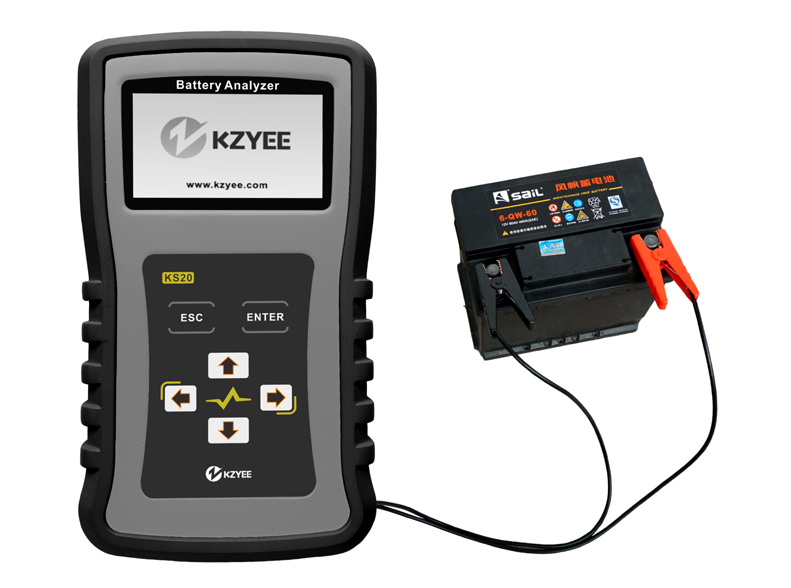 KZYEE KS20 Features:
1. This product is the testing tool for 12V and 24V vehicle, the testing voltage range is DC 9V to 30V.
2. Using the conductivity method to measure, the test is accurate, fast and easy to operate, and the display is intuitive
3. This instrument tests by low frequency signal, without an external large load to discharge, the battery will not be damaged.
4. The battery can be tested in car, the instrument itself without batteries, it will be charged directly by the battery under test, and it' s easy to use.
5.It is applied to the CCA(SAE) DIN, IEC, EN, JIS+ and Others battery test.
6. Applicable standards for the Battery: CCA(100-1700) EC(100-1000),EN(100-1700 DIN(100-1000),BCI(100-1700)
KZYEE KS20 There are four test results:
Lifetime
Test Results
Remarks
>80%
Excellent

The battery is in very excellent

condition

>60%

Passable

The battery is passable
>45%
Attention

The battery is OK, but need to pay

attention

<45%

Replace

The battery is at the end of its life.
Package includes:
1pc x KZYEE KS20 Battery Analyzer
1pc x User Manual
DHL:
For MOST non-free shipping goods, default shipping method is DHL. Need 3-7working days on the way after dispatch the goods.
YANWEN Express:
7-14 working days on the way, no need to pay tax for most european counties.
EMS:
6-10 working days on the way. To Russian only send by EMS. For some remote area, if you do not want to pay remote fee, we can send it to you by EMS too.
Aramex:
5-10 working day. To most middle east counries. If you do not like this shipping method, please leave message on your order.
Flat airmail:
7-18 working days on the way. For remote area or holiday, need more time.
Attention:
If you needs YANWEN express shipping or other shipping method like UPS, TNT, FedEx and so on, or you have special needs for your order, such as declared name and so on,
please leave message on the order to notify us
. Otherwise we will send the order as our usual practice.
As different country has different import policy, sometimes we will change the shipping method based on the counties and goods.
When you get the parcel, before sign for acceptance, please check the package to make sure the product is correct and no damage.
For any question, please contact us at:
Online Customer Service
E-mail:
sales@obdexpress.co.uk