Product Description
Come with VXSCAN 8Pin Adapter,read and write Anti-theft Data.
V6.12 XPROG Box ECU Programmer and VXSCAN 8Pin Adapter
New Generation Hardware, runs more steady and faster than old version.
VXSCAN BMW FEM-BDC can read and write anti-theft data, and it is safe and stable without losing data.
Assorted with high-quality 8pin header connector socket, compatible with XPROG ECU Programmer.
Note:
If used alone,it can also work with VVDI Prog/CG Pro 9S12/Orange5.
Features:
Read and Write Anti-theft Data
Convenient and Safe
Stable without losing Data
No Soldering, No Risk!
Anti-theft 95128/95256 Meter 35080/35160
With 8pin Header Connector Socket, the connection method is as follows: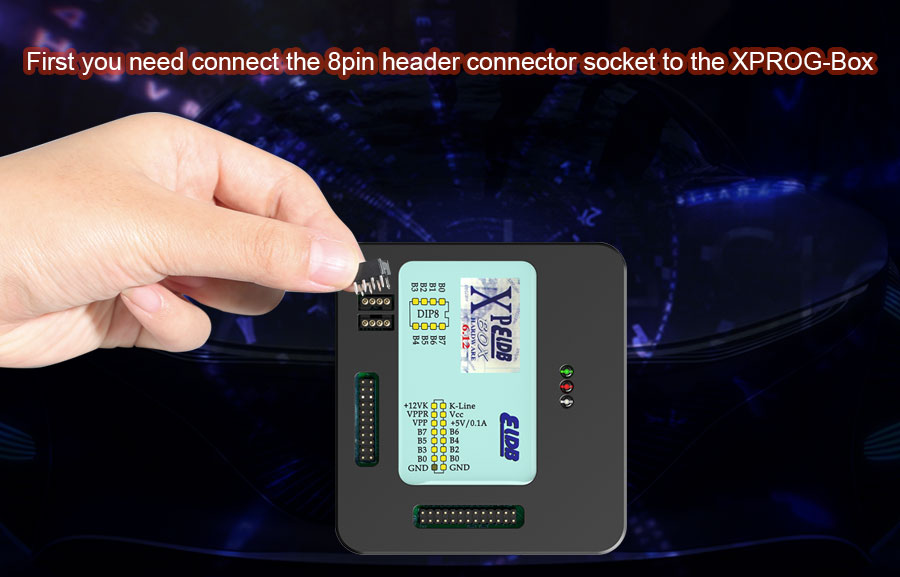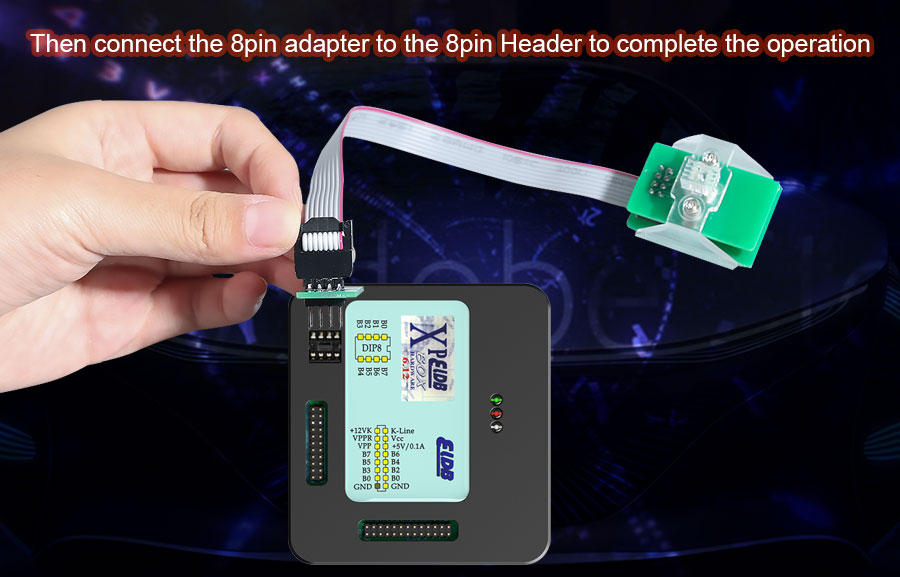 Top 6 Reasons to Get Newest XPROG-M V6.12
1.Latest software version: V6.12, Firmware version V4.4
Add new authorization: AUTH-0028-3 Renesas RL78 Authorized and AUTH-0028-4 Renesas M32C Authorized
Language: English
Operating system: WinXP/Win7/Win8
​XPROG V6.12 using tips:
1. XPROG V6.12 dongle isn't compatible with older version Xprog.
2. Please Close all anti-virus software in your computer, becase the anti-virus software will kill Xprog V6.12 driver.
3. Disconnect internet. If not, the internet may damage XPROG hardware.
4. Uninstall all the old version XPROG software before you install V6.12 software, because XPROG V6.12 hardware is not compatible with other version XPROG software.
5. Never try to UPDATE it, the hardware will be damaged if you try to update it online.

Install Notice:

Please windows system required as below:
1. Windows system should be windows XP 32bit OR windows 7 64 bit, all the patch software for the windows system should be installed already and the windows properly works well...
2. The windows system should be with at lest 2 partitions (except the CD ROM.)
3. Can not be working with virtual harddisk.

Install manual in words:
1. Click the file "installation.reg", get the file information to the regedit.
2. Install the file "AdbeRdr11000_zh_CN.exe", it is a must, otherwise the Xprog software will not start.
3. Plug the Xprog main interface to the computer, install the USB driver.
4. Copy the folder "XPROG-BOX6.12" to the desktop, and open it, and run the "xprogdesktop.exe", then software open.

XPROG V6.12 Authorizations:

AUTH-0001 Motorola HC05 family authorization (allows to read/write EEPROM)
AUTH-0002 Motorola HC08 family authorization (allows to read/write EEPROM)
AUTH-0003 Motorola HC11 family authorization (allows to read/write EEPROM)
AUTH-0004 Motorola HC12, 9S12 family authorization (allows to read/write EEPROM and flash memory)
AUTH-0005 Texas Instruments TMS370/TMS374 family authorization (allows to read/write EEPROM)
AUTH-0006 Motorola HC05Bxx and HC05Xxx family bypass security authorization (allows to read/write secured EEPROM and flash memory)
AUTH-0007 ST M35080 authorization. Read/Write/Erase device to delivery state.
AUTH-0008 BMW EWS3 authorization
AUTH-0009 ATMEGA family authorization (allows to read/write EEPROM and flash memory)
AUTH-0010 MB ZGS001 authorization
AUTH-0011 Motorola HC11EA9/E9 bypass security authorization (allows to bypass security bit and read EEPROM and RAM memory)
AUTH-0012 National CR16 authorization (allows to read/write EEPROM memory)
AUTH-0014 ST7, ST10 family authorization (allows to read/write internal flash)
AUTH-0015 MPC5xx authorization (depending on device program automatically detects MPC5xx, M95xxx device type, flash, external flash and configuration memory size)
AUTH-0018 Motorola HC12, HC912, MC9S12, MC9S12X bypass security authorization (allows to read/write secured EEPROM and flash memory)
AUTH-0020 ARM (Micronas, ...) Family authorization (allows to read/write internal flash and external serial EEPROM)
AUTH-0021 ARM (Micronas, ...) Family bypass security authorization (allows to read/write secured and non-secured internal flash and external serial EEPROM, view/change mileage, Chassis number (VIN), serial number and PIN code).
AUTH-0023-1 MAC7xxx
AUTH-0023-2 XC23xx
AUTH-0024-1 MC9S12Cxx
AUTH-0024-2 MC9S12XE
AUTH-0024-3 9S12XE SECURITY
AUTH-0024-4 MC9S12HA/HY/P
AUTH-0025-1 MPC/SPC5xxx Authorized 2016/3/13
AUTH-0027-1 HC(S)908 update Authorized 2016/3/13
AUTH-0027-2 HC(S)908 sercurity Authorized 2016/3/13
AUTH-0028-1 Renesas V850 Authorized 2017/10/9
AUTH-0028-2 Renesas SuperH Authorized 2017/10/9
AUTH-0028-3 Renesas RL78 Authorized
AUTH-0028-4 Renesas M32C Authorized
XPROG-M V6.12 Adapters:
Newly added below 4 adapters:
ADP-0019 Rev.B
ADP-0006 M35080 ICP adapter
QFP64 MC908AZ/AS60 3K85K adapter
QO18S714

ADP-0001 TMS370 PLCC28 programming adapter
ADP-0002 TMS370 PLCC44 programming adapter
ADP-0003 TMS370 PLCC68 programming adapter
ADP-0004 Motorola HC05B/X PLCC52 programming adapter
ADP-0005 Motorola HC05B/X QFP64 programming adapter
ADP-0006 ST M35080 in-circuit programming adapter
ADP-0008 TMS374 family in-circuit programming adapter
ADP-0009 MC68HC05V12 programming adapter
ADP-0010 TMS374 on-board programming adapter
ADP-0011 HC11EA9/E9 programming adapter
ADP-0017 HC(S)12 BDM / ARM Micronas in-circuit programming/bypass security adapter
Additional adaptor for 5M48H P-Flash
ADP-0019 Rev.A
EWS3 adaptor
EEPROM adaptor
QFP28 adaptor
QFP64 adaptor
QFP80 adaptor
QFP112 adaptor
QFP144 adaptor
Xprog V6.12 Software Display:

Package List:
1pc x XPROG-Box Hardware (Aluminum Enclosure)
19pc x Adapters Set
1pc x USB Cable
1pc x 16Pin cable
1pc x CD with XPROG-Box Software (V6.12)
1pc x VXSCAN 8Pin Adapter BMW FEM-BDC 95128/95256 Chip Anti-theft Data Reading Adapter
4pcs x 8Pin Header Connector Socket


Shipping and delivery;Attention:
DHL: For MOST non-free shipping goods, default shipping method is DHL. Need 3-7working days on the way after dispatch the goods.
YANWEN Express: 7-14 working days on the way, no need to pay tax for most european counties.
EMS: 6-10 working days on the way. To Russian only send by EMS. For some remote area, if you do not want to pay remote fee, we can send it to you by EMS too.
Aramex: 5-10 working day. To most middle east counries. If you do not like this shipping method, please leave message on your order.
Flat airmail: 7-18 working days on the way. For remote area or holiday, need more time.


Attention:
If you needs YANWEN express shipping or other shipping method like UPS, TNT, FedEx and so on, or you have special needs for your order, such as declared name and so on, please leave message on the order to notify us. Otherwise we will send the order as our usual practice.
As different country has different import policy, sometimes we will change the shipping method based on the counties and goods.
When you get the parcel, before sign for acceptance, please check the package to make sure the product is correct and no damage.


For any question, please contact us at:
E-mail:
sales@obdexpress.co.uk