Product Description
Special Function Software Package for NexzDas Lite :
ABS Bleeding, EPB Reset, DPF Reset, Oil Reset, Injector Adjustment, Battery Change, TPMS Reset ,SAS Reset, Throttle Sensor
Special Function Software Package for NexzDas Lite
Special functions incl.
ABS Bleeding
Read and clear codes and turn off ABS warning indicator.
Perform bi-directional control tests.
EPB Reset
Perform bi-directional control tests on EPB systems and deactivate and re-activate the brake control system.
DPF Reset
Reset Diesel Particulate Filters and the DPF light after the filter been replaced.
Oil Reset
Set service intervals, inspection mileage and reset service lights with a button on the vehicle .
Injector Adjustment
Cylinder can better identify the cylinder nozzle, and accurately control fuel injection after confirming or re-coding.
Battery Change

It is required to associate the new battery with the vehicle ECU to complete the job and start the engine.
TPMS Reset
Tire Pressure Monitoring Sytem Reset can monitor the air pressure inside the pneumatic tires and reset it in real-time.
SAS Reset
SAS is used to measure the angle of the steering wheel and speed at which it is being turned.
Throttle Sensor
A throttle sensor is used to monitor the throttle position of a vehicle.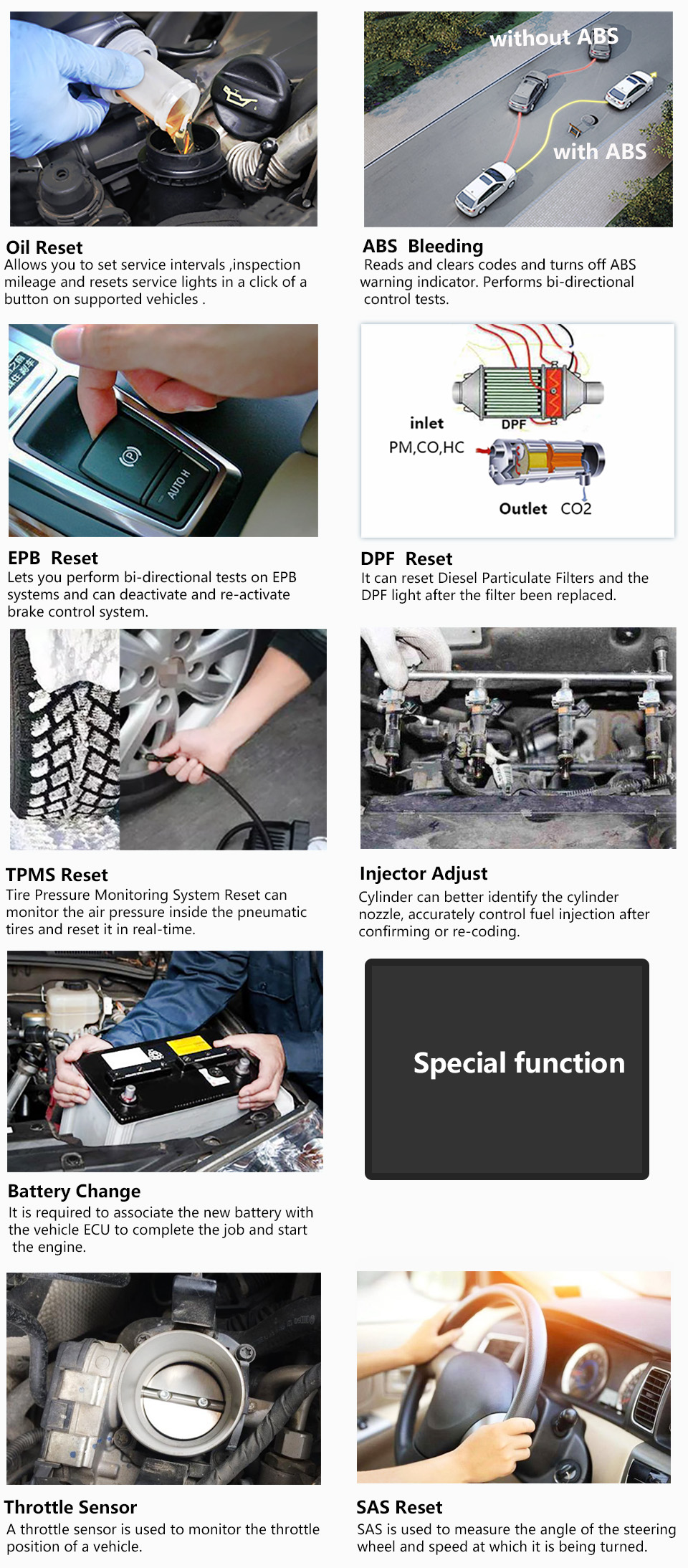 Shipping Method and Delivery Time:

EU, UK , US and Russia Warehouse Shipping: 3-5 working days. Fast Delivery & Tax Free.

China Warehouse Shipping:
DHL Shipping: 3-5 working days. Usually we declare a lower value on DHL invoice to help with customs clearance. Please remember to leave message if you have any special requirement.
Yanwen Express: 7-10 working days. No Tax for European Countries.
Standard Post: 7-15 working days. To South America and Africa countries it may take 20-25 working days. Customers can tick Express Shipping Service to ship by DHL.

For any question, please contact us at: