Product Description
LAUNCH CRP123X has all the basic features a technician needs to diagnose check engine lights on most 1996 and newer OBD2 vehicles. Features like engine/ transmission/ ABS/ SRS diagnostics, AutoVIN, Wi-Fi updates, and on-screen definitions make the CRP123X a powerful yet affordable automotive diagnostic scan tool.
Launch X431 CRP123X Creader Professional Scanner
Highlights
1. CRP123X is an upgraded Version of CRP123 and Creader VII+ , Support more car.
2. 5'inch android touch screen, easy to operate.
3. Fast VIN autodetect, CRP123X will read VIN information when you connect car.
4. Lifetime free update, support one-click update via wifi.
5. Automatically generate and upload diagnostic reports.
6. Support multi-protocols: OBDII , EOBD, JOBD , KOBD
7. Support multi-language:
English, French, German, Spanish, Portuguese, Italian, Russian, Japanese, Korean
Compare with launch crp123 and other automotive diagnostic tools , what updates have we made on launch CRP123X ?
1. Fixed more bugs and Upgrade car makes up to 2020 models, Update car software to 2018/2019/2020, including cars, SUVs, minivans, 12v light-duty trucks. Expanded vehicle coverage can grow your customer base.
2. Android 7.0 systems to avoid the flashback issue of another scanner, runs Faster, Smoother and More Stable
3. Upgrade the battery from 4000mAh to 6100mAh, CRP123X will work a long time. the battery life on the unit is exceptional.
4. Add the storage of CRP123X from 8G to 16G memory for more vehicle models program, and the running memory up to 1.1Ghz, makes the scanner work faster.
5. The screen of CRP123X upgraded to a 5.0-inch touchscreen and 720P resolution delivers outstanding image quality, allowing you to easily analyze problems.
6. Support More Vehicle Models ( Update car software to 2018/2019/2020 ): 10000+ Vehicle Coverage; 57+ Car Brands Support including cars, SUVs, minivans, 12v light-duty trucks, gasoline cars, and diesel cars, etc.
7. AutoVin tech , make you identifies cars quickly. To shorten the diagnostic time and help you solve the problem accurately,can quickly scan the vehicle identification number.
8. Update software with just one-click anytime and anywhere via WIFI !!! No IP limited.
9. More Stronger and More Resistant to Fall. The anti-slip handle design and anti-fall shell greatly extend the lifetime of the launch scanner.
10. Online Maintenance Resources: Operating skills, DTC Help, Automotive Technology handbook, Repair Case and How-to Videos.
Features:
1. Easy-to-use case design:
The diagnostic tool features a 5-inch touch screen in combination with operating buttons for ease of operation. You can control it with buttons or with your fingers.
2. Useful AutoVIN Technology:
To reduce diagnostic time and help you solve the problem accurately, the CRP123X is built with antivenin technology, which can quickly scan the vehicle identification number.
3. Wi-Fi update:
The diagnostic tool is suitable for most 1996 and newer OBD2-compliant vehicles, and the coverage of the diagnostic vehicle will be expanded with updates. Since this is an Android-based scanning tool, you can update the software directly via Wi-Fi with one click.
4. Output Checkout Report:
After completing the diagnostics, the scan tool will record the test, including client information, vehicle information and diagnostic result, for users to view or print.

CRP 123X, an intelligent and networkable diagnostic tool based on Android plat­ form, comes with all OBD functions and the basic quick test functions of four sys­tems, namely, engine, transmission, Anti-lock Brake System (ABS) and Supplemental Restraint System (SRS), meeting the needs of passenger car DIY market.

4 System Diagnostic - Check ENGINE /ABS /SRS /TRANSMISSION

Check ABS Codes
The diagnostic tool CRP123X is available for accessing and performing diagnostics on Anti-lock Brake Systems respectively. Check the trouble codes and view live data stream to figure out the issues that caused the ABS warning light, and turn off the MIL after maintenance and repair.

SRS MIL Turn-off
OBD2 scan tool supports performing Supplemental Restraint System (SRS) diagnostics for most domestic and import vehicles. Through reading codes, displaying codes definition, plus checking the information in Built-in DTC library, you're able to quickly and effectively solve automotive issues within the system.

Engine Diagnostics
Read and erase check engine light codes with clicks on the screen on most 1996 and newer OBD2-compliant vehicles. Live Data allows you to view the vehicle sensor, switch and relay inputs in real time, while the engine is running. Live Data information helps pinpoint the problem components for a faster diagnosis.

Check Transmission
The diagnostic scanner is an entry-level automatic transmission service tool that supports reading/erasing codes, viewing live data and turning off the warning light in the transmission system. It's a fast, low-cost, and precise service solution for AT issues and you can perform system scanning and get diagnostic results in seconds.
Functions:
1.Read and clear DTCs: Show the detailed description of the diagnostic trouble code (DTC) and clear/reset the diagnostic information.
2.Read I/M readiness status: Show whether the various emissions-related systems on the vehicle are operating properly and are ready for inspection and maintenance testing.
3.Read live data Stream: Show the information of continuous data stream from vehicle in live graphic (waveform) display.
4.Read Freeze Frame Data: Check the certain vehicle conditions which are recorded by the on-board computer at the time the emission-related fault occurs.
5.O2 Sensor Test: Show the last results of O2 sensor test in graphic display for troubleshooting.
6.On-Board monitor test: Read the results of on-board diagnostic monitoring tests for specific components/systems.
7.Read vehicle Information: Display the information such as VIN (vehicle identification number), CID (calibration ID) and CVN (calibration verification number), etc.
CRP123X Support Car list: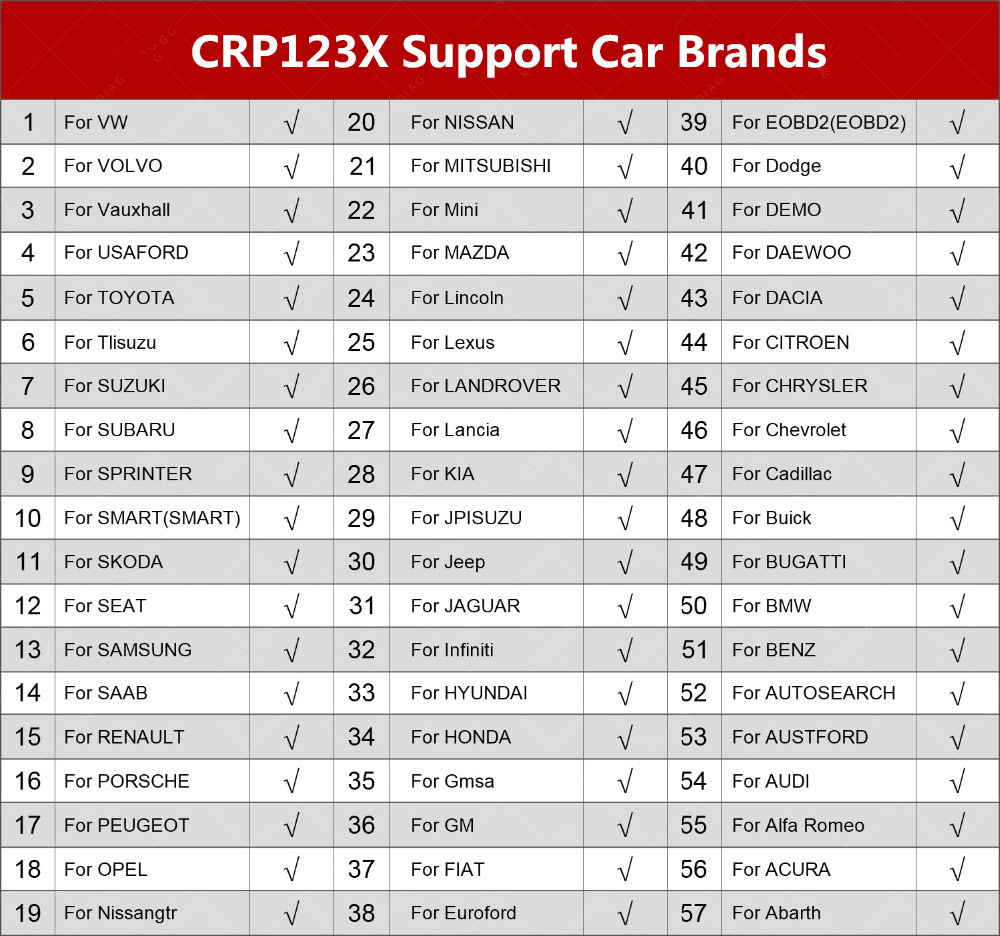 Parameters:
LCD: 5 "of the touch screen, 720 P
OBDITIONS Input voltage interface: 9 V -18 V
DC input voltage: 5 V
Battery: lithium battery
Storage temperature:-20 -8451; ~ 70 -8451;
Operating temperature:-10 -8451; ~ 50 -8451;
Format: 8.98 *4.92 *1.36 thumbs
Net weight: <565g
CRP123 vs CRP123X vs CRP123E:
Package List:
1pc x LAUNCH X431 CRP123X Scanner


Shipping Method and Delivery Time:

EU, UK , US and Russia Warehouse Shipping: 3-5 working days. Fast Delivery & Tax Free.

China Warehouse Shipping:
DHL Shipping: 3-5 working days. Usually we declare a lower value on DHL invoice to help with customs clearance. Please remember to leave message if you have any special requirement.
Yanwen Express: 7-10 working days. No Tax for European Countries.
Standard Post: 7-15 working days. To South America and Africa countries it may take 20-25 working days. Customers can tick Express Shipping Service to ship by DHL.

For any question, please contact us at: